Since 2008, the USAID Bureau for Global Health's flagship Maternal and Child Health Integrated Program (MCHIP) has worked in more than 50 developing countries in Africa, Asia, Latin America and the Caribbean to improve the health of women and their families. MCHIP supports programming in maternal, newborn and child health, immunization, family planning, nutrition, malaria and HIV/AIDS, and encourages opportunities for integration of programs and services when feasible.
MCHIP addresses the barriers to accessing and using key evidence-based interventions across the life stages—from pre-pregnancy to age 5—by linking communities, primary health facilities and hospitals. By helping countries identify and focus on those innovations that will save lives, MCHIP supports delivery of evidence-based interventions through strengthening government health systems, nongovernmental organizations and other local partners.
In June 2014, USAID announced MCHIP's successor program, the Maternal and Child Survival Program. Visit this flagship program, working to end preventable child and maternal deaths, at www.mcsprogram.org.
DOWNLOAD BROCHURE PDF
Globally, maternal and child deaths are significantly decreasing. MCHIP activities contributed to these global reductions in maternal and child deaths, and improved the health of women (from planning a family through pregnancy and delivery) and their children (from infancy through childhood). At the household, community and hospital levels, MCHIP implemented and worked to scale up high-impact interventions.

Sustaining these achievements requires national policies, training and contributions to global learning:
– Across MCHIP countries, USG-supported training programs graduated nearly 308,000* participants.
– Over the life of the project, 182 national policies were drafted with USG support.
* Actual total for life of project is 307,759 total training participants.
MCHIP has supported programming in maternal, newborn and child health, immunization, family planning, malaria and HIV/AIDS, and strongly encouraged opportunities for integration. Cross-cutting technical areas include water, sanitation, hygiene, urban health and health systems strengthening. MCHIP presented a vehicle in which the whole is greater than the sum of individual parts, enabling the Program to respond to the need for a more integrated approach to services while taking into account epidemiology, health system capacity, efficacy, coverage, cost, cultural acceptability and other factors.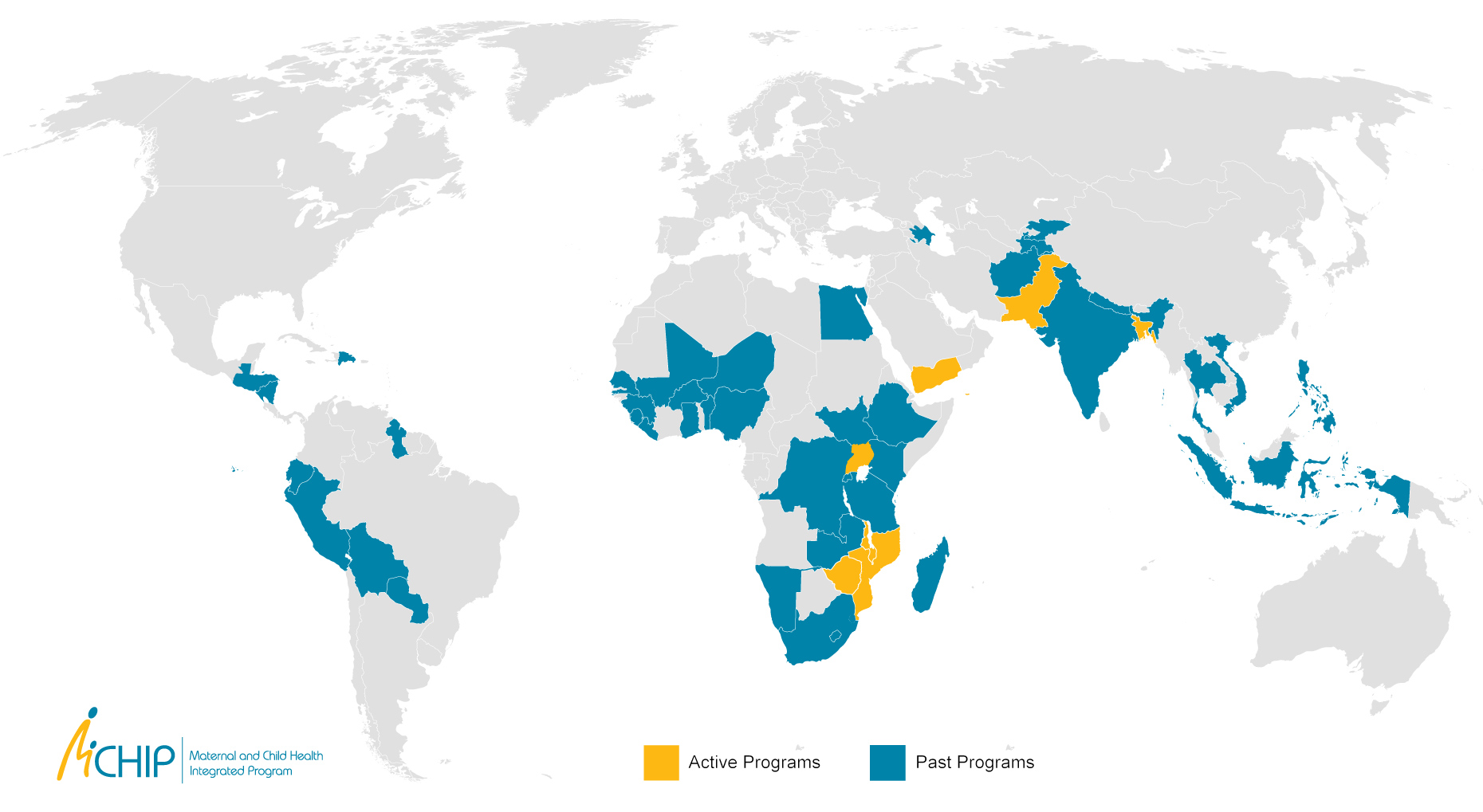 Active Programs:
Past Programs
Technical assistance was also provided in:
Afghanistan
Benin
Burundi
El Salvador
Guatemala
Honduras
Nicaragua
Niger
Peru