Since 2008, the USAID Bureau for Global Health's flagship Maternal and Child Health Integrated Program (MCHIP) has worked in more than 50 developing countries in Africa, Asia, Latin America and the Caribbean to improve the health of women and their families. MCHIP supports programming in maternal, newborn and child health, immunization, family planning, nutrition, malaria and HIV/AIDS, and encourages opportunities for integration of programs and services when feasible.
MCHIP addresses the barriers to accessing and using key evidence-based interventions across the life stages—from pre-pregnancy to age 5—by linking communities, primary health facilities and hospitals. By helping countries identify and focus on those innovations that will save lives, MCHIP supports delivery of evidence-based interventions through strengthening government health systems, nongovernmental organizations and other local partners.
In June 2014, USAID announced MCHIP's successor program, the Maternal and Child Survival Program. Visit this flagship program, working to end preventable child and maternal deaths, at www.mcsprogram.org.
DOWNLOAD BROCHURE PDF
Globally, maternal and child deaths are significantly decreasing. MCHIP activities contributed to these global reductions in maternal and child deaths, and improved the health of women (from planning a family through pregnancy and delivery) and their children (from infancy through childhood). At the household, community and hospital levels, MCHIP implemented and worked to scale up high-impact interventions.

Sustaining these achievements requires national policies, training and contributions to global learning:
– Across MCHIP countries, USG-supported training programs graduated nearly 308,000* participants.
– Over the life of the project, 182 national policies were drafted with USG support.
* Actual total for life of project is 307,759 total training participants.
MCHIP has supported programming in maternal, newborn and child health, immunization, family planning, malaria and HIV/AIDS, and strongly encouraged opportunities for integration. Cross-cutting technical areas include water, sanitation, hygiene, urban health and health systems strengthening. MCHIP presented a vehicle in which the whole is greater than the sum of individual parts, enabling the Program to respond to the need for a more integrated approach to services while taking into account epidemiology, health system capacity, efficacy, coverage, cost, cultural acceptability and other factors.

Over the last two decades, the global community has witnessed remarkable reductions in the number of maternal deaths worldwide. Yet, too many women still die in pregnancy and childbirth from treatable complications—nearly 800 women per day.
Postpartum hemorrhage (PPH) and pre-eclampsia/eclampsia (PE/E) together account for more than 40% of maternal deaths. To combat this, MCHIP works in 30 countries to promote access to lifesaving interventions for pregnant women, and address a number of areas integral to improving outcomes for mothers and their babies, such as malaria in pregnancy and care for women affected by HIV. MCHIP provides leadership and technical assistance at the global and country levels for an integrated package of interventions to address PPH, PE/E, preterm birth, maternal anemia and other complications. MCHIP was a key contributor to new World Health Organization (WHO) recommendations on PPH and PE/E. A critical change advocated by MCHIP was the provision by lay workers of misoprostol, a lifesaving drug taken immediately after birth to prevent excessive bleeding.

In spite of existing high-impact interventions for newborn health, nearly 3 million babies die each year within the first month of life, and more than three-quarters of these deaths occur in sub-Saharan Africa and South Asia. Improvements in the prevention of newborn death have lagged behind those for maternal and child health.
MCHIP has assisted 37 countries in addressing the three main causes of newborn death: prematurity, birth asphyxia and infections. There is substantial evidence that the vast majority of these deaths can be prevented if mothers and newborns receive proven low-tech solutions. The program works to expand the use of lifesaving practices and availability of commodities through global advocacy, collaboration with country leadership, health worker trainings and system strengthening. In Liberia and Madagascar, for example, MCHIP collaborated with partners to institute use of chlorhexidine on a baby's umbilical cord at birth for prevention of newborn infections. Bangladesh has also recently adopted this intervention. This is a simple technology with the potential to prevent an estimated 500,000 global newborn deaths each year.

Tremendous achievements have been made in decreasing the number of deaths of children under the age of 5. The rate of these improvements, however, varies greatly from region to region. In sub-Saharan Africa, for example, 1 in 9 children dies before the fifth birthday—more than 16 times the average for developed regions. For Southern Asia, about 1 in 16 children dies before age 5. The good news is that the primary killers of children—pneumonia, diarrhea and malaria—are preventable and treatable.
MCHIP has been a vital contributor to the global movement to end preventable child deaths, working to improve access to lifesaving treatments at both a global and country level—having worked in 17 countries. The program recognizes that efforts to end preventable child deaths will be successful only when treatment is available to the populations most at risk. MCHIP has been at the heart of efforts to expand integrated Community Case Management (iCCM), a strategy to extend the management and care of childhood illness beyond health facilities. The package addresses diarrhea, pneumonia and malaria, and is often extended to include newborn health and malnutrition.

Globally, immunization prevents 3 million child deaths each year, and WHO estimates that 17% of the remaining under-5 deaths—approximately 1.5 million deaths annually—could be prevented with existing vaccines. Success in reducing vaccine-preventable mortality has been dramatic, but it cannot be taken for granted.
Achievements in immunization must be maintained and built upon every year. While infant vaccination coverage in some countries now exceeds 80%, coverage is not the only measure of success. Before they are exposed to disease, women and newborns must be reached by both potent vaccines and high-quality services in a timely, safe, effective and affordable manner so that they return to complete all of their doses. Coverage disparities also continue within countries, with few countries reaching 80% or higher coverage in all districts.

An estimated 85% of all deaths from malaria occur in children under 5. In malaria-endemic areas, 50 million women will become pregnant each year. These women are highly susceptible to the consequences of malaria, which lead to increased maternal death and severe maternal anemia, low birth weight and infant death.
MCHIP works to control malaria, focusing on the prevention and treatment of the disease among the most vulnerable groups—women and children in low- and middle-income countries. The program contributes to global programs and partnerships, most notably by working with the Roll Back Malaria partnership and the President's Malaria Initiative (PMI).

Worldwide, 222 million women currently wish to delay or prevent pregnancy, yet do not use contraceptives to plan their family. The reasons for non-use are complex, involving social, cultural and economic barriers, fears about side effects and lack of access to a trusted provider. There is significant evidence, however, that greater access to family planning can be vital to achieving global goals in maternal health and child survival.
MCHIP has helped 21 countries integrate postpartum family planning (PPFP) into maternal, newborn and child health programming, averting unintended pregnancies and promoting healthy spacing between pregnancies. MCHIP takes advantage of the frequent contact women have with health care providers during a pregnancy, birth, and child health and immunization services to integrate PPFP counseling and services whenever possible. The program has also developed materials to educate and advocate for expanded access to the postpartum intrauterine contraceptive device as a reliable and convenient method of family planning, as well as screening and referral processes to offer PPFP linked with child health visits.

Maternal anemia, even moderate cases, increases the risk of dying during childbirth. The 2008 Lancet series on maternal and child undernutrition estimated that 20% of maternal deaths are due to maternal iron-deficiency anemia and stunting in women, thus adding 115,000 deaths to the total maternal deaths from obstetric complications annually. The updated 2013 Lancet series on maternal and child undernutrition highlighted the contribution of maternal iron deficiency to poor birth outcomes, including low birth weight and perinatal mortality, as well as recent studies, which revealed that women taking iron-folic acid supplements during pregnancy deceased the risk of mortality in their children by 30% to 50%, with most of the effect occurring in the first day of life.
Iron deficiency during pregnancy can also reduce iron stores at birth, which can comprise cognitive development and increase risk of mortality for the child. However, despite the known life-threating consequences of anemia and compelling emerging data, there is little attention given at global and country levels to reduce the burden of maternal anemia. Maternal anemia control programs are the primary maternal nutrition program worldwide, yet these programs lack adequate funding and support from multiple sectors. This has led to a failure to significantly reduce maternal anemia in developing countries, especially within the context of an integrated approach to address anemia from both nutrition and disease control perspectives.

HIV is a leading cause of death among women of reproductive age and a major contributor to maternal mortality in high-prevalence settings. According to recent estimates, HIV-infected pregnant or postpartum women have about eight times higher mortality than their counterparts who are not infected with HIV. Moreover, despite a 24% drop in new pediatric infections, 900 children are still newly infected every day.
For the first time, the global community has the tools needed to virtually eliminate pediatric HIV and keep HIV-infected women alive and healthy. MCHIP continues to focus on a strategic approach that has helped 16 countries scale up high-impact interventions to prevent new infections and ensure that HIV-infected persons are linked to the care and treatment they need.

As USAID's flagship global program in maternal, newborn and child health (MNCH), MCHIP has the opportunity and responsibility to promote and apply monitoring and evaluation (M&E) best practices and the use of standardized indicators for the measurement of MNCH results. The M&E approach used by the Program is in keeping with the common evaluation framework that guides the work of countries and initiatives seeking to accelerate the achievement of Millennium Development Goals 4 and 5, and which has been adopted by the International Health Partnership, the Catalytic Initiative, and others.
MCHIP's wide programmatic scope and integrated approach present unprecedented opportunities to scale up proven interventions and test innovative approaches to achieve improved outcomes at scale. MCHIP measures outcomes such as coverage of high-impact MNCH interventions by drawing on existing population-based surveys and through the rigorous M&E efforts of in-country implementing partners and PVO/NGO grantees, and directly in selected countries where MCHIP receives the mandate and funding from USAID Missions to conduct population-based surveys. Health management information system (HMIS) data can also be used for this purpose in some cases.

The collaboration of civil society is pivotal to achieving global aims to end preventable maternal, newborn and child deaths worldwide. Many international nongovernmental organizations (iNGOs) and their in-country partners reach underserved and vulnerable populations with low-cost, high-impact interventions. They are also often at the forefront of developing practical solutions to the barriers they encounter on the ground related to implementation and scale-up of integrated intervention packages to inform national policies and strategies.
MCHIP supports iNGOs through USAID's Child Survival and Health Grants Program (CSHGP)—currently 32 projects in 24 countries—the majority of which involve partnerships with academia, Ministries of Health and other local entities to implement and test approaches that bridge gaps in the household-to-health-facility continuum of the health system.

"Mobile technology, particularly mobile telecommunication technology, is increasingly becoming an important tool in global health programs. Excitement about the potential of "mHealth" centers especially on how mobile technology can be applied in lower and middle income countries where people have traditionally had limited access to health services. mHealth strategies are being used to overcome factors that limit access, such as geographic distance to services, social marginalization, inadequate skilled medical personnel or a lack of financial resources.
At the evidence base, supporting mHealth is still relatively nascent, the global health community is just beginning to recognize the potential role that mHealth can play in improving health program results. Some within the development and global health communities are demanding more research evaluating if and how mHealth improves impact in global health programs. Accordingly, generating quality evidence through methodologically rigorous research has emerged as a priority for the broader mHealth community."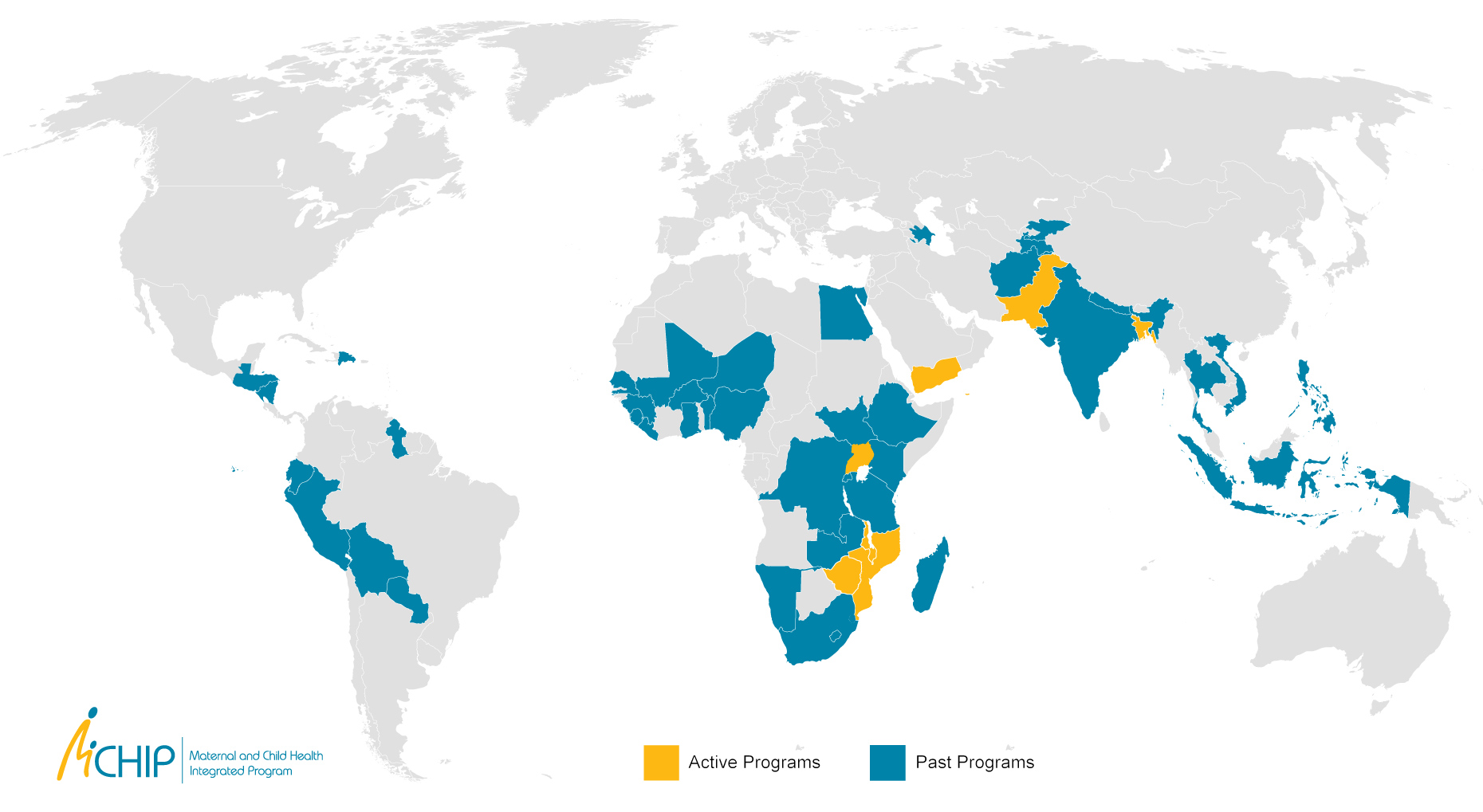 Active Programs:
Past Programs
Technical assistance was also provided in:
Afghanistan
Benin
Burundi
El Salvador
Guatemala
Honduras
Nicaragua
Niger
Peru